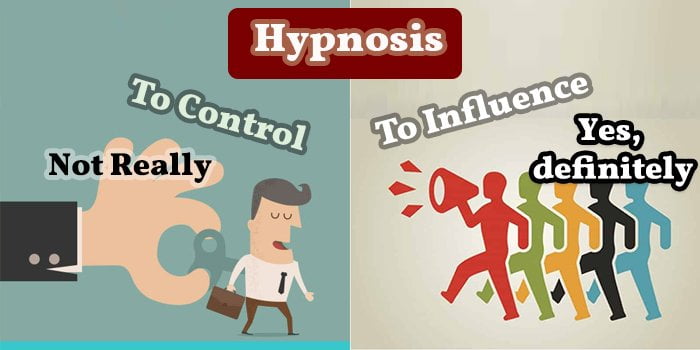 When we talk about hypnosis we often tend to be either talking about the relaxed, focused, absorbed feelings associated with a 'trance state', or we tend to be talking about the interesting things people can do when hypnotised: such as not feeling pain, or experiencing hallucinations. Some scientists think that hypnosis is an 'altered state of consciousness' marked by changes in the way the brain functions. Others believe that hypnotised participants are actively motivated to behave in a hypnotic manner and are not simply passively responding to hypnotic suggestions. Therapists who use hypnosis sometimes talk about using hypnosis to access contents and resources of the unconscious / subconscious mind.
Like the story of the blind men and the elephant, it is possible that these explanations all describe different parts of the overall phenomenon of hypnosis.
Hypnosis is generally taken mean to the induction of a trance state. Although trance has connotations of glassy-eyed automatism, it simply means a focused state of attention. Attention can be focused externally, or it can be focused internally. It is most often compared to daydreaming or the feeling of "losing yourself" in a book or movie. You are fully conscious, but you tune out most of the stimuli around you. You focus intently on the subject at hand, to the near exclusion of any other thought.
In this state, you are also highly suggestible. That is, when the hypnotist asks you to do something, you'll probably embrace the idea completely. Its application is based solely on the relationship between the conscious mind, the critical filter and the subconscious mind. The subconscious mind, in this state, accepts and acts upon any fact or suggestion given to it by the conscious mind.
However, the subject's sense of safety and morality remain entrenched throughout the experience. A hypnotist can't get you to do anything you don't want to do.

Is Hypnosis Real?
How does Hypnosis feel?
Since everyone has experienced light levels of hypnosis at different times, don't be surprised if you don't feel hypnotized. All that is required to be hypnotized is a motivation to be hypnotized, concentration, imagination, relaxation, and the willingness to respond to suggestion. There are ways to check for the depth level of hypnosis, usually in a one-on-one session. During hypnosis, you will remain conscious of your surroundings.
Some of the sensations you may experience when in a hypnotic state:
Tingling in your fingertips or limbs
A sense of numbness or limb distortion
A sense of being light and floating away from your body
A heavy feeling like you are sinking
A sense of energy moving through your body
Feelings of emotions
Fluttering eyelids
An increase or decrease in salivation.
What happens in Hypnosis?
How does one know whether he/she was hypnotized?
Whether or not you believe that hypnosis is an altered state of consciousness, the key characteristic of hypnotic responding is involuntariness. This has been called the "classic suggestion effect" (Weitzenhoffer, 1980). As a hypnotic suggestion is carried out by a subject, the subjective experience is typically that the behaviour is happening all by itself, involuntarily. For example, if the suggestion is that the subject's arm is rigid like a bar of iron, the classic hypnotic experience is that one's arm has really become rigid, on its own: it is not experienced that one is deliberately holding one's arm stiffly.
Things to remember about hypnosis
When you notice that you are noticing these sensations, do not become alarmed or you may shock yourself right out of the hypnotic state.
Don't try too hard to get in a hypnotic state, just expect the hypnotic state to occur gradually and it will.
Suggestions stay with some individuals indefinitely, others need reinforcement.
The effects of hypnosis are cumulative: The more the techniques are practised and posthypnotic suggestions are brought into play, the more permanent the results become.
How does Hypnosis Work?
In order to understand the process of hypnosis and how it works, one needs to understand the model of mind and the functions of the different parts of the mind.
Different Parts of Mind
The Conscious Mind (10-12 %):

Normally, you are only aware of the thought processes in your conscious mind. You consciously think over the problems that are right in front of you, consciously choose words as you speak, consciously try to remember where you left your keys.

But in doing all these things, your conscious mind is working hand-in-hand with your subconscious mind

It is like the CPU of a computer with current rules of life
Its functions include thinking, finding logic, feeling, analyzing, deciding, controlling voluntary body movements
The conscious mind exercises what we call will power.
It is also the place of working memory (memory we use every day to function).

The Subconscious Mind (88-90 %)

It is the unconscious part of your mind that does your "behind the scenes" thinking.

Your subconscious mind accesses the vast reservoir of information that lets you solve problems, construct sentences or locate your keys. It puts together plans and ideas and runs them by your conscious mind. When a new idea comes to you out of the blue, it's because you already thought through the process unconsciously.

Your subconscious also takes care of all the stuff you do automatically.

It controls all of the autonomic processes that you don't have to think about – the heart rate, the blood pressure, tissue growth, cell regeneration, the immune system and so on.  It's where our thoughts, memories and accumulated experience reside. It controls our emotions, our habits and our responses to the world.

You don't actively work through the steps of breathing minute to minute – your subconscious mind does that. You don't think through every little thing you do while driving a car – a lot of the small stuff is thought out in your subconscious mind.

The vast majority of things that we do are unconscious, which we can be grateful for – if you had to consciously think about every single thing you did, you wouldn't do anything. However, it can lead us astray.

Most problems are things that we've learned how to do at an unconscious level in an unhelpful way.

It can be compared to the hard disk of a computer
Basic function includes storing information and controlling involuntary body functions
Divided into two parts:

Modern Memory (All current life experiences)
Primitive Mind (All instincts that a person is born with)

Critical Filter

The critical filter contains our beliefs, programming/conditioning & is responsible for the inhibitory process.

It lies partly in the conscious and partly in the subconscious areas of your mind. The function of the critical mind is that of a gatekeeper who controls the flow of information from the conscious to the subconscious. The information flowing into the conscious mind is evaluated here and the decision is then made whether to accept or reject that input. If the information is accepted, it is immediately passed on to the subconscious mind for long-term storage. If the information is not accepted, it is either rejected immediately or vented later during sleep in the dream state.
The way to get to the subconscious mind and bypass the critical filter is:
The only way a real change can take place is to get the new programming into our subconscious mind.
Through our memories, habits, and emotions.

Memories are only created through experience and you may need many positive experiences to diminish the effects the negative experience. This could take a long time to create.
Habits require willpower and time in order to become habits.
Emotions either happen randomly or require changing the way you think about a situation and that can be enormously difficult to do and also take time.

Through hypnosis.
What does Hypnosis Do?
Hypnosis works by updating the unconscious / subconscious mind with new and more helpful information, like reprogramming a computer.
Hypnosis is a much easier way to bypass the critical filter. Under hypnosis, the critical filter goes to sleep for a while. The Conscious Mind stays awake, and can still make decisions. But now you're in control while your subconscious is receptive to any suggestion that your conscious mind wants to let in.
What is Hypnotherapy?
Hypnotherapy is a therapeutic modality that is based on the premise that the mind and body do not work in isolation.
Hypnotherapy is a therapy that is undertaken with a subject in a hypnotic state.
Hypnotherapy = Hypnosis + Therapy
In a hypnotic state, a client is hyper-suggestible. The hypnotherapist is able to suggest ideas, concepts and lifestyle adaptations, the seeds of which become firmly planted in the subconscious mind of the client.
Hypnotherapy and Psychotherapy
Hypnotherapy is a kind of psychotherapy. Hypnotherapy aims to re-program patterns of behaviour within the mind, enabling, irrational fears, phobias, negative through and suppressed emotions to be overcome.
Regardless of the techniques employed, perhaps the most important thing about Hypnotherapy is that a client should expect to feel comfortable and at ease with their therapist. This is of particular importance in Hypnotherapy, in which the value of the treatment is greatly enhanced when there is confidence in the practitioner.
Difference between Hypnotherapy and other forms of Psychotherapy
There are many forms of psychological therapy but Hypnotherapy is distinctive in that Hypnotherapy attempts to address the client's subconscious mind. In practice, the Hypnotherapist often (but not exclusively) requires the client to be in a relaxed state, frequently enlists the power of the client's own imagination and may utilise a wide range of techniques from storytelling, metaphor or symbolism (judged to be meaningful to the individual client) to the use of direct suggestions or even mindfulness for beneficial change.
During Hypnotherapy sessions, analytical techniques may also be employed in an attempt to uncover problems deemed to lie in a client's past or therapy may concentrate more on a client's current life and presenting problems. Hypnotherapy is generally considered helpful if the client is personally motivated to change (rather than relying solely on the hypnotherapist's efforts) although a belief in the possibility of beneficial change may be a sufficient starting point.
In actual practice, most Hypnotherapists will combine hypnotherapeutic procedures with other appropriate counselling and therapeutic techniques. Should there be any doubt about the combination of skills utilised in individual cases, the hypnotherapist should be asked directly for a further explanation of their preferred methodology.
Applications of Hypnotherapy
Hypnotherapy can be applied to a wide range of medical, dental and psychological problems like anxiety and stress conditions, weight control, addictive behaviours and confidence issues. Hypnotherapy is also used to enhance performance in several areas such as sport and public speaking.
Unlike many other psychological therapies, Hypnotherapy is generally considered to be a fairly short-term approach in which beneficial change, if it is to occur, should become apparent within relatively few sessions.
Types of Hypnotherapy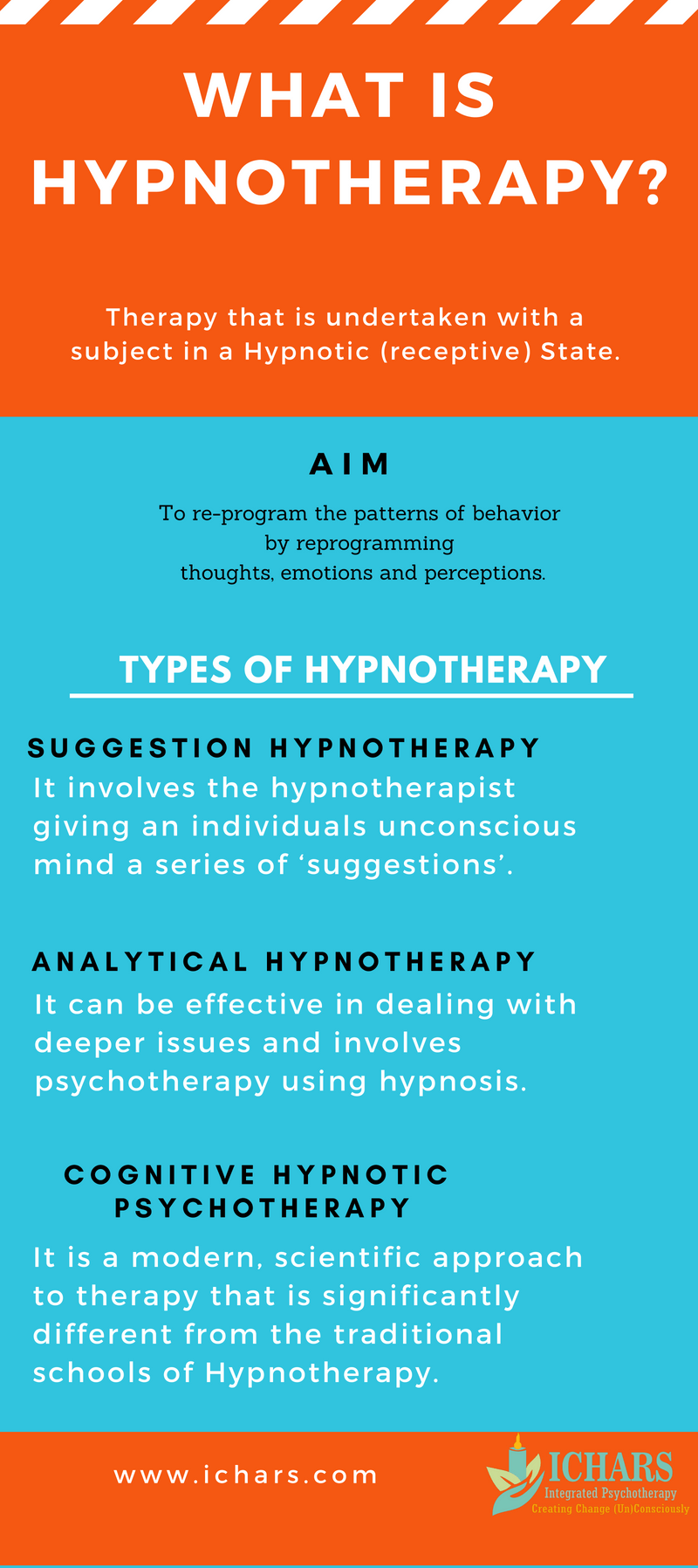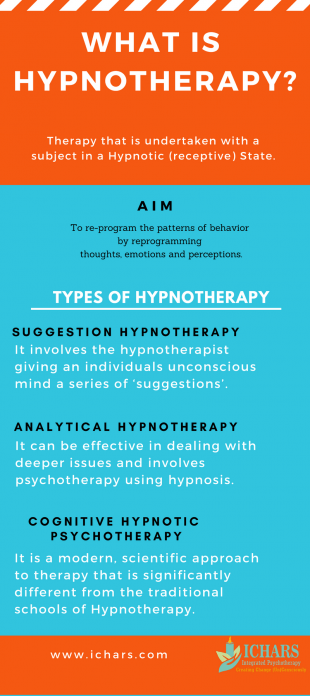 Suggestion Hypnotherapy

Suggestion hypnotherapy involves the hypnotherapist giving an individuals unconscious mind a series of 'suggestions'. These suggestions can help an individual to find it easier to do something they want to do (e.g. public speaking) or easier to stop doing something they don't want to do (e.g. smoking).

Suggestion Hypnotherapy is often used when there is no root cause that needs to be dealt with, or when there are time constraints (such as an individual wanting to deal with a fear of flying). Suggestion hypnotherapy is often considered a short-term therapy.

Analytical Hypnotherapy

Analytical Hypnotherapy (also called hypnoanalysis) can be effective in dealing with deeper issues and involves psychotherapy using hypnosis. Analytical hypnotherapy seeks to find the root cause of a problem, and deal with the issue. For example, a phobia may be 'masked' using suggestion therapy, however, the root cause will still exist. Analytical hypnotherapy seeks to identify the root cause and deal with it.

Analytical Hypnotherapy is a very involving process and usually requires much more commitment than Suggestion Hypnotherapy. However, once the root cause has been identified and dealt with, the results can be life-changing. Whereas Suggestion Hypnotherapy manages a problem, Analytical Hypnotherapy aims to resolve it.

Cognitive Hypnotherapy

Cognitive Hypnotherapy is a modern, scientific approach to therapy that is significantly different from the traditional schools of Hypnotherapy. Cognitive Hypnotherapy draws its influence from a number of other validated theories, such as Positive Psychology, Neuroscience, Evolutionary Psychology and NLP and combines these in a way that fits the client's personal goals, values and personality. Drawing from a range of techniques from different disciplines means that a tailored approach for each client can be created – there's no "one size fits all" model here.

Cognitive Hypnotherapists attempt to get into the mindset of the client to work through any presenting issues, using techniques and language based on the client's unique model of the world. Cognitive Hypnotherapy also uses an analytical approach to clearing away unwanted thoughts and behaviours from the past, but then uses techniques that retrain the brain in the present to ensure that the changes that clients would like to make are fully realised.

Cognitive Hypnotic Psychotherapy is probably the most comprehensive form of hypnotherapy that is by many considered as the latest cutting edge approach to psychotherapy. It is solution focused and structured yet person-centric. It incorporates principles from all the other types of hypnotherapy mentioned above along with concepts and techniques from Mindfulness, Psycho-analysis and Meditation.
Some schools of hypnotherapy have distinguished their approach to applying hypnotherapy in a particular way with a specific label. For example, a hypnotherapist may state that they are a regression hypnotherapist. This simply refers to the guidance of a client back into their personal history with the intention of addressing past possibly disturbing experience. All hypnotherapy, possibly with the exception of Suggestion Hypnotherapy, may include regression and it would often be part of an Analytical Hypnotherapy and Cognitive Hypnotherapy series of sessions.